We're spending one more night in Steyr, so our ride today started out along the Enns river and took us through some beautiful mountains, valleys and small towns.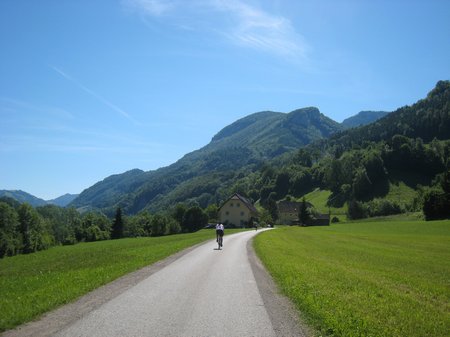 What a view!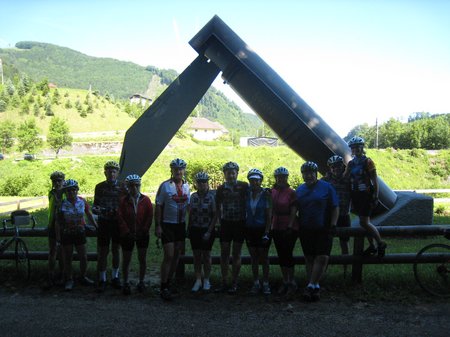 We ran across the largest jacknife in the world — pretty funny!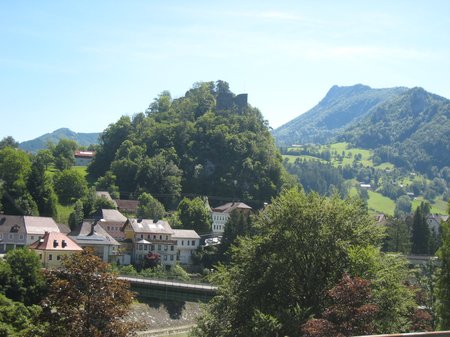 The village where we stopped for lunch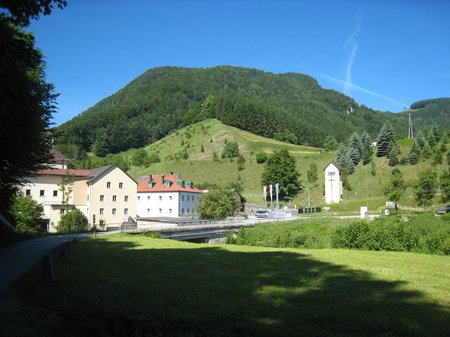 Another lovely view from the trip today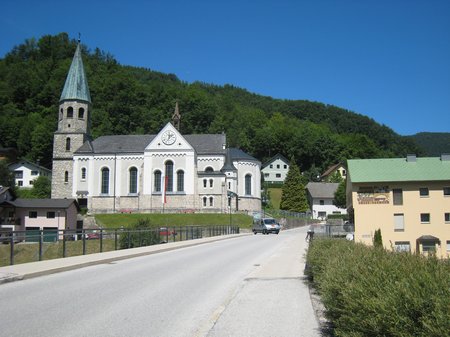 The church in Reichraming, our turn around point
The ride was supposed to be relatively flat today, but flat in Austria means something entirely different than it does in Texas. It was a challenging ride with many steep ramps. My legs were tired from all of the climbing yesterday, so I finished my ride at 18 miles. Gary rode 35 miles.
Our evening entertainment was an Apple Streudel cooking lesson in a local food and wine shop in the town square area. Our instructor made the first batch while giving tips on how to make the dessert, then she recruited volunteers to make the second batch. Gary stepped up and helped make some of the magic happen.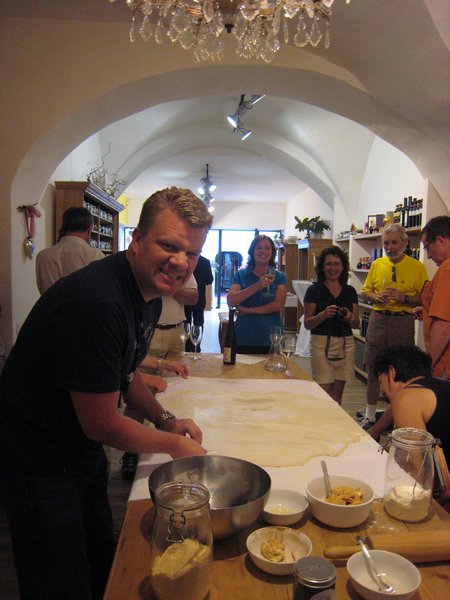 We were on our own for dinner tonight, so we stopped at a casual snack shop. We're getting a little tired of the formal dinners that are part of the tour, and it was nice to just grab something simple and basic. For the most part, the food we've sampled is good, but I'm not a big steak, pork, or fish lover, and those seem to be the trendy items on the pre-selected tour menus. They need to add a little more variety in the options, but overall, it's been good, and it's definitely MUCH better than our trip to Israel.
Tomorrow, we leave Steyr and travel to Freistadt, a small town in the Upper Austria region with about 7,500 residents. We'll also cross the Danube river and have a picnic lunch. It should be a fun day. Just say a quick prayer for my knee. It started hurting after my ride today, and I'm a little nervous about how it will hold up tomorrow. I don't want to miss the ride, so send it some good vibes!