Run, bike, run. That's the mantra of duathletes, and I am proud to say I'm part of the club now. If you run and bike but don't like swimming, this multi-sport experience is what you need. Duathlons are fun and rewarding—challenging, yet attainable. Whether you're considering a "du" or already signed up for one, here are a few tips to get you going.
Take Time to Train Properly
It's important to train for the event, especially if you are a beginner.  You can find free 6-week, 8-week, and 12-week training programs online. One of my favorites is the 12-week course by Esprit de She. Following a training program will prepare you for the event and help minimize your risk of injury by ensuring you are progressing at the right pace.
Regardless of the program you choose, incorporate brick workouts into your training. A brick workout is the stacking of two sports during the same workout with minimal interruption in between. When you get off your bike and transition to running, your legs will feel like cement bricks as they recover and adapt to running. As your body gets used to running again, the feeling will subside and your legs will begin to feel normal again. Stacking two sports stresses your body, so it's important to train for this before the event.
Practice Duathlon Transitions
You will be timed during the transitions, so you want to be efficient and have a plan in place. Practice this plan as you train. Here are a few things to consider as you prepare for race day transitions:
Pack your gear in a backpack so your hands are free to maneuver your bike through the transition area. Any backpack will do, but there are some great packs designed for triathlons that have special slots for shoes, sunglasses and all of the equipment you need. The

Rocket Science Sports backpack

is pricey, but awesome.
Bring a mat or towel to place your gear once you unpack your bag. Set up your equipment next to the tire touching the ground (refer to bike pic below).
Lay your gear out in the order in which you will put it on your body. For example, you may want to put your shoes on the mat first, your helmet on top and your sunglasses in the helmet. When you complete your run, you can easily grab your glasses and helmet, then switch out your shoes.

No tie laces

are awesome and cheap. No one wants to be battling with laces or tying knots during transition.
Arrive Early
Give yourself plenty of time on race day, especially if it's your first duathlon. You don't want to be rushed, and it will help you secure a good spot on a rack. Select a rack near the run in/out and bike in/out areas. If you are in the middle of a long line of racks, count the rows so you know where your bike is hanging. When there are hundreds or thousands of bikes, it can be difficult to find yours. You'll also be in a hurry, so it's easier to just count the racks as you come in from your run. Also, try to get a good spot on the rack. I prefer the end because you have more space for your gear (see pic below). Finally, enjoy the sunrise, and since you arrived early, spend some time meeting the people around you.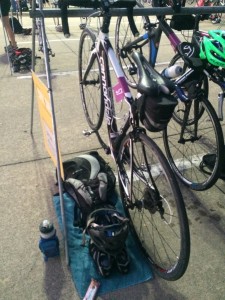 You Can Do Far More Than You Think
My parents taught me you can accomplish anything you want as long as you work hard at it. I've found this to be true for most things in life. A duathlon isn't easy, but if you work hard enough, you can make it happen. When I started training for my duathlon, I was diagnosed with exercise induced asthma. It was a set back, and there were times I questioned whether I should be running. I persevered and — with the help of proper medication — was able to complete the event, ranking within the top 1/3 of my age range and besting my previous training times. That's not too bad for a first-timer with asthma, eh?
You may have limitations. You may be worried about completing the course. You may think you won't be able to do it, but trust me. You really can do more than you think!
Have Fun and Enjoy the Duathlon Experience
You've trained hard for the event, now it's time to relax and enjoy.  Soak up the experience, push yourself to achieve new heights, and have a blast!