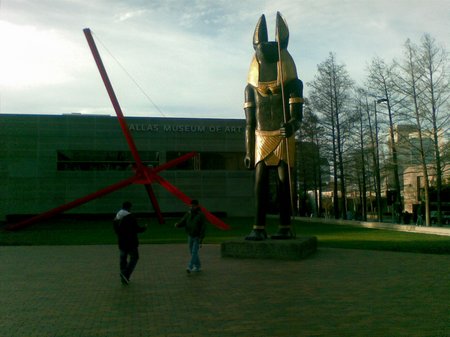 After praise team practice at ALC today, Gary and I went downtown to check out the King Tut exhibit at the Dallas Museum of Art. The "Tutankhamun and the Golden Age of the Pharaohs" exhibition displays works of art from royal tombs in the Valley of the Kings from the late 18th Dynasty (14th century BC). It marks the first time in twenty-six years that treasures from King Tut's tomb have been shown in America and the first time they will be seen in the Southwest. The exhibit at the DMA includes more than 130 artifacts, many of which have never been seen outside of Egypt.
I'm fascinated by Egyptian history and its artifacts so I couldn't let this opportunity pass by without seeing it. When traveling in Europe, I always seek out the museums with Egyptian exhibits, and during our trip to New York last Summer, we stumbled across an extensive selection of Egyptian artifacts at The Met. I wasn't sure if this local exhibit could hold up to those at the world famous museums, but I was pleasantly surprised upon entering the exhibit area. Although it was crowded, the displays were well-spaced and information about each object was placed at the top and bottom of the case making it easy to read even with people standing around it.
The Mummy of King Tut is not included in this exhibit. It has never left the Valley of the Kings. The death mask also remains in Egypt. However, there are many interesting pieces from Tut's tomb including the jewelry, diadem, and dagger found with his mummy in the sarcophagus. Tut's crook and flail, walking sticks, wooden chests, chairs and jars are also on display. Additionally, the exhibit features several gilded statuettes found in Tut's tomb, and a gilded sarcophagus found in a nearby tomb. One of the highlights of the exhibition is a gold coffinette that was used to store the liver of King Tut after his death.
Many of the artifacts are in pristine condition due largely in part to the fact that grave robbers had mostly missed King Tutankhaman's final resting place. When his tomb was discovered by British archaeologist Howard Carter in 1922, it was considered one of the greatest archaeological finds because of its almost undisturbed conditions and the rich variety of objects inside.
If you are interested in Egyptian history or the boy king, Tutankhamun, it's definitely worth a visit to the DMA to see the exhibition. For more info, check out their website.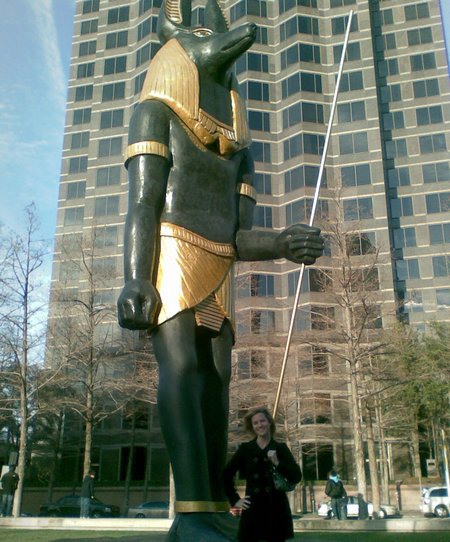 Posing with the statue of Anubis outside the Museum entrance