Yesterday was our last day in New York. We got up early for a tour of the NBC studios at Rockefeller Center. No pictures were allowed. NBC claims that everything in the building is under copyright. Okay…yeah…sure.
Anyway, it was a fun tour. We got to see the MSNBC studios during a live broadcast, and we visited the NBC Nightly News set. For me, the highlight of the tour was the Saturday Night Live studio. SNL isn't taping during the summer, so the studio was temporarily being used for other purposes. However, you could still view the three SNL stages: (1) where musical guests perform, (2) the main stage where the opening monologue happens, and (3) a staging area for the more complicated or "messy" sketches.
After the SNL set tour, the group was ushered into a sound stage that looked like a newsroom. They asked for volunteers. I raised my hand and got to conduct the weather report for a fake newscast. Reading the teleprompter while trying to watch the monitor (which shows a flipped image) was difficult, but fun. I now have more respect for the weathermen — haha!
Following the NBC tour, we went to the "top of the Rock" to get a glimpse of New York city from 70 stories up. The top of the Rockefeller building gives you glorious 360 degree views of the city. It was gorgeous up there.
New York skyline and Empire State Building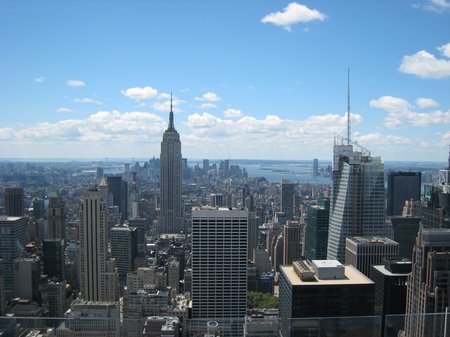 Central Park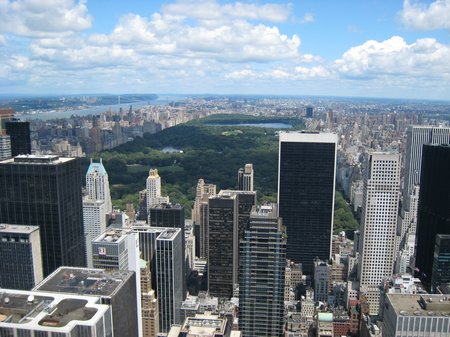 Gary pinching the top of the Empire State Building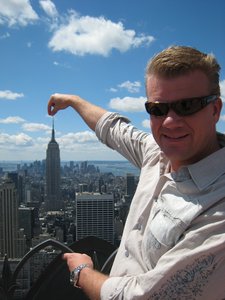 Rockefeller Plaza Area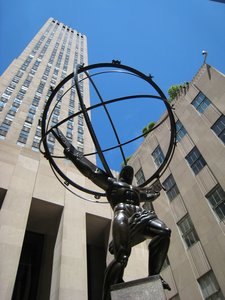 After leaving the Rockefeller Center area, we grabbed a late lunch at one of the local cafes, walked around Times Square and headed to the airport. It was a great day and a fun trip.   New pictures are available in the "photos" section of the blog.
On Monday, I was back at work. Gary had the day off so of course I was jealous. I really wished I could take another day off, but work is crazy right now. Two days of vacation was all I could take.
Anyway, I made it through the day without losing my "vacation aura", then headed to the first rehearsal for SNL. I'm really happy with our cast and sketches for the show this year. I think it's going to be great! Mark your calendars — October 3 and 4. You don't want to miss it!