It's all about…the bling!  If you're motivated by medals like me, then the Polar Dash and Yeti Challenge is the event for you.  It's a blast — well organized and well stocked with lots of great swag. Managed by Team Ortho and part of the Monster Race Series, the Polar Dash includes a 15 mile, 10K, 5K, and 1500 meter run. If you run the 10K, 5K and 1500 meter, then you have the honor of completing the Yeti Challenge and earning the Yeti medal (in addition to the stained glass medals for each event).  You also get a warm Polar Dash fleece jacket to beat the cold, a penguin hat, custom bib, and custom timing chip. How cool is that? Great run, great swag and tons of fun!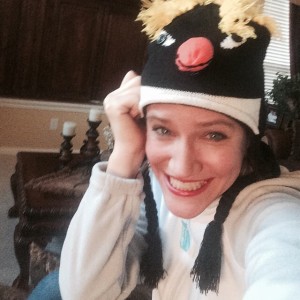 For us, race day was chilly, but it warmed up after the first run.  Gary started with the 10K. We completed the 1500 meter run together, and then took a short break while waiting to run the final 5K.  It was a lovely day and a fabulous run.  What made it even better was my asthma didn't flare this time. I actually enjoyed the run instead of suffering through it.  That was such a nice change!
Afterwards, we collected our bounty and celebrated our accomplishments — conquering the Polar Dash — and for Gary, the Yeti Challenge.