Imagine 3,000+ people running in Santa suits, and you've got a good idea of what the Santa Run Texas is all about. It's a fabulous mix of red and white for as far as the eye can see. The Santa Run Texas benefits My Possibilities in Plano, a non-profit organization providing continuing education for adults with disabilities. Not only was this a fun 5K, but it also benefited a great cause that provides much needed services to those in need. That means regardless of whether you are first or last in crossing the finishing line, everyone wins!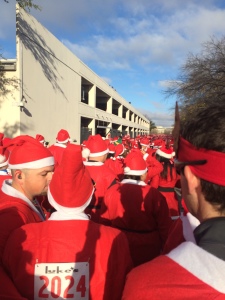 Pets are invited to join the fun too, so we put Shepherd in a Santa Costume and brought him with us. He enjoys the excitement and loves running — plus, he's a big hit with the crowd. People along the road were constantly cheering for the little "Santa dog."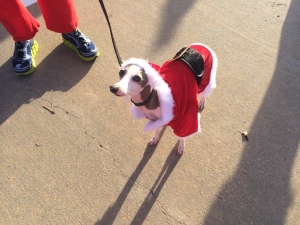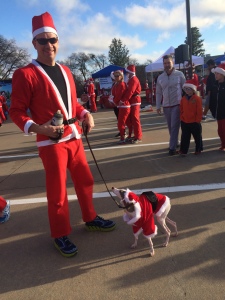 My asthma decided to flare a bit during this run, which means I didn't best my fastest time, but that's not what these runs are about anyway. They are about having fun, and that's exactly what I had — after I got my breath back, that is.
The finish line offered a festive atmosphere with live music, a variety of food vendors, and a tent where you could take pictures with the big guy himself, Mr Claus. We walked around sampling the treats, checking out the wares being sold and enjoying the sunny day. It was my first experience with this run, but now it's on my "must do" list. It might be the start of a great annual tradition, and it's definitely a good way to get in the mood for the upcoming holiday season!