Shopping is one of my favorite hobbies. No matter how much I do it, it never gets old. I love fashion. I love clothes. It doesn't matter if they are casual, dressy, business, or athletic. Finding something fun to wear that feels good and makes you look great is a blast. It brings out my inner moxie!
Here's the cool thing. Not only can you have your moxie, but you can wear it too. During the Esprit de She duathlon, I discovered Moxie Cycling. The company was an event sponsor and provided the cycling jerseys, which I absolutely loved. Comfortable, well-made and stylish, their tank tops are not your average jerseys. I really like the circular design of the front straps and the clever style of the racer back. The jersey is tagless and also has a support bra with optional padded cups. For me, this meant I didn't have to wear a sports bra underneath — big win! It's a smart design and judging by everyone I saw wearing it on race day, it was also flattering on a variety of shapes and sizes.
After the duathlon, I stopped by the Moxie booth to check out more of their apparel and bought a short sleeve jersey to add to my collection, as well as a headband. I'm loving these just as much as the tank!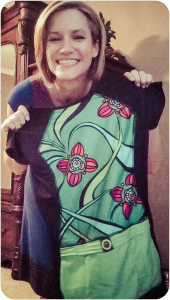 Moxie has definitely been added to my shopping list!