I participated in a Blacklight Color Run recently, and it was a complete blast!
What's a Blacklight Run?  It's a nighttime 5K color run where you get covered in neon glow powder before, during and after the run. Along the course, special blacklight zones are set up to make everything and everyone glow like crazy.
My blacklight color run was held in Ft Worth, TX at LaGrave Field, a minor league ball park near the Trinity Creek running trails. A festive atmosphere was present from the minute we stepped into the stadium. People were already gathering around the large stage in the middle of the field, enjoying the music and participating in "glow throws." A photo booth was also set up on the field, and food vendors made sure no one went hungry.  It was a very well organized and well stocked event.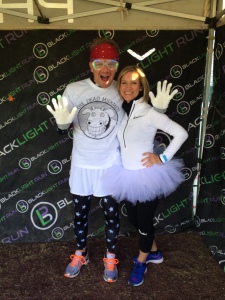 We quickly picked up our packets and glow gear (they had a plethora of glow sticks and other glow accessories for people to wear). After taking a few "before" pics, we joined the party. The DJs and stage crew did a great job of keeping the energy up and making it fun. They threw glow packs and free swag into the crowd, engaging us in a very interactive way.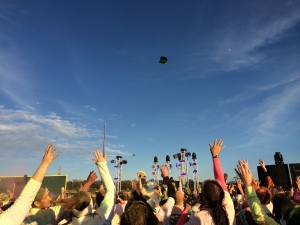 Now covered in glow powder, we made our way to the starting line. As the sun set, our colors began to glow.  It was a great sight as you looked around at thousands of runners — men, women, families, and children — all glowing in a variety of bright colors.  During the run, it was so much fun to see the colors along the paths ahead and behind us — a continuous flow of color moving across the trails next to the creek. Along the course, blacklight and color stations were set up so you could get more color and take "glow" photos under the lights.  It was such a unique and fun experience!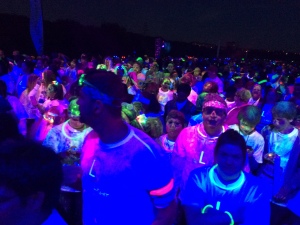 After the race, the music and party continued with seemingly endless amounts of powder being thrown into the crowd. We re-joined the group and had a blast participating in the glow throws every 15 minutes as more and more runners joined us.  We also grabbed more free swag, enjoyed the music and had fun just glowing under the lights.
If you are considering a color run, I highly recommend this one. The Blacklight Runs are held in multiple cities across the US.  Personally, I can't wait to do it again!
For tips and tricks on doing a color run, stay tuned!  I'll be sharing recommendations in a future post.