One of the things I love about running is the wide variety of events where you can dress in costume. It's a great way to let your personality shine and somehow makes running more fun. I'm just getting started, but this page will share some of my favorite costumes and ideas.
Blacklight Color Run
With a color run, you want to wear something that will proudly display your newly acquired colors once the race is over. I choose a white long sleeve Nike shirt ($50), basic black leggings, and a white tutu set (($50) from Lucky Number Tutu.  The tutu was paired with a white "color me" tank top, but since the weather was too cold for a tank, I'm saving it for a another color run.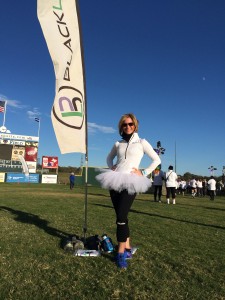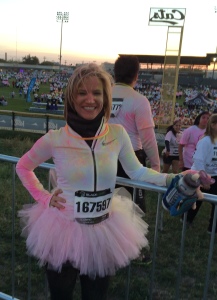 BEFORE                                                        AFTER
Mini Moo Cow Marathon
Since this event was a last minute addition to my running calendar, I only had time to grab a shirt and some cow socks. However, the socks rocked! Our T-shirts featured "The Dead Milkman" cow logo and came in black and white.  My Cow Knee High Socks are available on Amazon.com for about $14.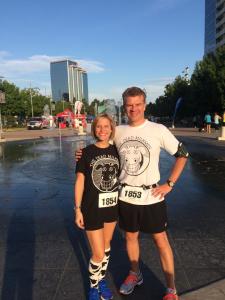 Turkey Trot
My next run will be the North Texas Turkey Trot on Thanksgiving day.  I just ordered the various pieces that will comprise my costume, and I can't wait to get them!  I'll be donning a turkey inspired, brown, yellow, and orange tutu from Race Junkie, along with a "Got Turkey?" shirt and a turkey headband. If you don't want to spend the money to buy a tutu, they seem to be fairly easy to make.  I found some great instructions online for a similar turkey trot tutu.
Check back at the end of November for pics from run day!