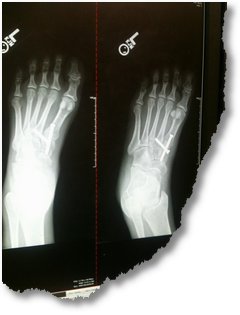 Yay, I just passed the 6 month anniversary of my foot surgery. It feels awfully good to have ditched the scooter, crutches and ugly black boot for normal shoes and a pair of heels! I'm not pain free yet, and according to my doctor, I have another 6 months of recovery to get back to my pre-injury status. It feels like I will never get back to normal, but I must be patient. It will happen…eventually!
In the mean time, I have reached another milestone in this odd journey. It's time for the screws that have been holding my joint together to be removed. The joint should be stable enough to hold on its own now. They don't want the screws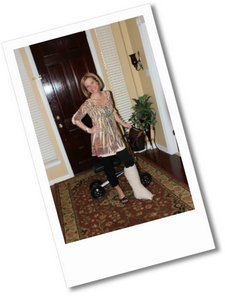 to break as I become more active, so out they come!
The surgery is Monday. It'll be much easier than the last one, but you know how these things go. They are never pleasant or painless. I also found out that I'll be stuck in the boot again for a couple of weeks — boo! Oh well, gotta take the good with the bad, I guess.
So, if you happen to think of me on Monday, say a quick prayer that everything goes well. And bid a fond farewell to those little silver appliances that have been temporarily residing in my foot.