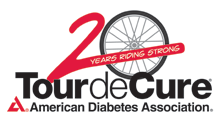 On July 23, I will be cycling in the American Diabetes Association's Tour de Cure fundraising event at Texas Motor Speedway. More than 23.6 million Americans — including some of my own family members and friends — suffer from diabetes. During this event, I'll be joining with riders from across North Texas to help ride for a cure.
Gary and I will be cycling the course with the Cisco corporate team, and I need sponsors to help me reach my fundraising goal of $150. All proceeds benefit the American Diabetes Association and will help us make a difference in the fight against diabetes.
If you'd like to sponsor me, click here to visit my personal site and make a donation.
Together, we can all make a difference!